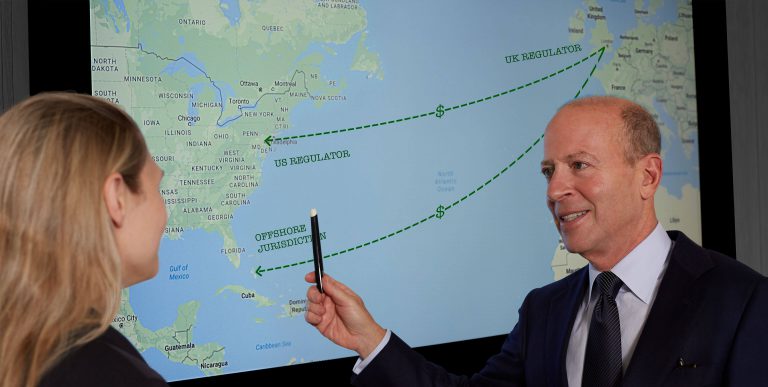 International Litigation and Cross Border Disputes
In today's global marketplace, businesses need a legal partner with experience in resolving complex disputes or defending against governmental inquiries across multiple jurisdictions. Dontzin Nagy & Fleissig has represented clients in more than 20 countries with respect to cross-border disputes, litigation, investigations, and transactional matters.
Our lawyers regularly handle international investigations, including insider trading cases before regulatory authorities throughout Europe. We also represent clients in cross-border disputes between parties outside of the United States. The firm's experience in these matters stretches from the UK to France, Germany, Luxembourg, Spain, South Africa, and Saudi Arabia, as well as the Cayman and British Virgin Islands.
Our core strength is in bringing US litigation tactics to bear in international jurisdictions. We believe that cases are won on the facts — and thus we are intensely focused on investigations and fact-finding prior to trial. The facts-driven litigation behind our international practice has produced a track record of positive outcomes for clients around the globe.
While our bench has extensive experience litigating matters internationally, we represent large, multinational clients efficiently and cost-effectively by integrating a global network of lawyers and other professionals in a wide array of practice areas — including tax and corporate law — throughout Europe, the Middle East, and Africa.
Notable Matters
We litigated the largest divorce settlement in the history of UK courts ($530 million.)
Our team assisted a global financial services firm in its rollout of an online banking platform in Europe to serve its retail and institutional clients.
We coordinated legal teams across three continents for a multinational insurance and financial services company involved in an international commercial dispute.
We represented a UK hedge fund manager in separate insider trading investigations in the UK, France, and Spain.
We represented an executive of a multi-billion dollar French company in an insider trading investigation in France.
We represented a member of the royal family in Brunei in litigation involving his ownership of assets in the United States.
Our team represented a high-net-worth individual based in the UK in connection with a U. Department of Justice insider trading investigation.
We represented an engineer based in Japan in connection with a criminal proceeding (pending in the US District Court for the Eastern District of Michigan) arising from an automobile product recall.
We devised and coordinated legal strategy on behalf of the CEO and the National Commercial Bank of Saudi Arabia in connection with civil and criminal proceedings in the US, UK, Europe and several offshore jurisdictions involving the collapse of Bank of Credit and Commerce International (BCCI). The global defense of multi-billion dollar claims involved supervising over 35 law firms in more than seven jurisdictions.